Women's Rights National Historical Park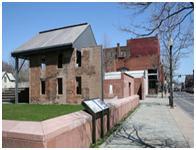 Seneca Falls hosted the First Women's Rights Convention, and today you can learn about the people who organized it, the people who came, and what happened next.
In 1848 Elizabeth Cady Stanton and four other women invited the public to the First Women's Rights Convention to discuss expanding the role of women in America. At the end of the two days, 100 people made a public commitment to work together to improve women's quality of life. While women have achieved greater equality with the vote, property rights, and education, the revolution continues today.
In nearby Waterloo, the restored home of Thomas and Mary Ann M'Clintock is open to the public during the summer. Site of the planning for the First Women's Rights Convention, the M'Clintock House contains exhibits about the family's Quaker faith, and their work in Anti-Slavery and Women's Rights. The home of Richard and Jane Hunt is also in Waterloo. It is open to the public only on special occasions.
The park consists of four historical properties and a Visitor Center. Start at the Visitor Center where you can view a film and tour exhibits. Continue to the Wesleyan Chapel and imagine being a participant at the First Women's Rights Convention. Take a tour of the Elizabeth Cady Stanton home where she raised seven children and did extensive networking to create a reform movement.