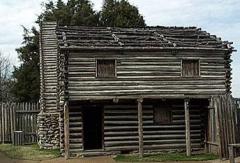 John Donelson and James Robertson were both leading settlement parties when they established the fort overlooking the Cumberland River. Originally covering more than two acres, the fort has been renovated and reconstructed to give visitors an idea of early settlement life.
The recreated buildings contain puncheon log floors and limestone and wood chimneys.
Visitors can take self-guided tours of the fort.