An American widow encountered Hitler and Mussolini during a world-wide art tour in the years before war broke out.
"Hitler looked cold and ordinary and Mussolini warm and expansive," Mrs. Gifford later recalled.
Disconsolate and recently widowed, Marguerite Gifford penned a poem in 1937, summing up: "My thrill in life, has ceased to be... my husband will not come to me."
The 61-year-old aspiring artist decided to leave Louisville and find subjects to use for her painting. She signed up with two dozen other aspiring artists for an eight-week program in eastern Europe. They would tour Austria, Poland and Hungary, paint peasants in costumes, and sketch scenes in markets, festivals and castles. In Budapest they would learn watercolor painting with the colorful Count Ludwig Batthyany, who had been badly burned trying to save his family's art collection including van Dyck's "Portrait of a Gentleman." His palace had been a total loss.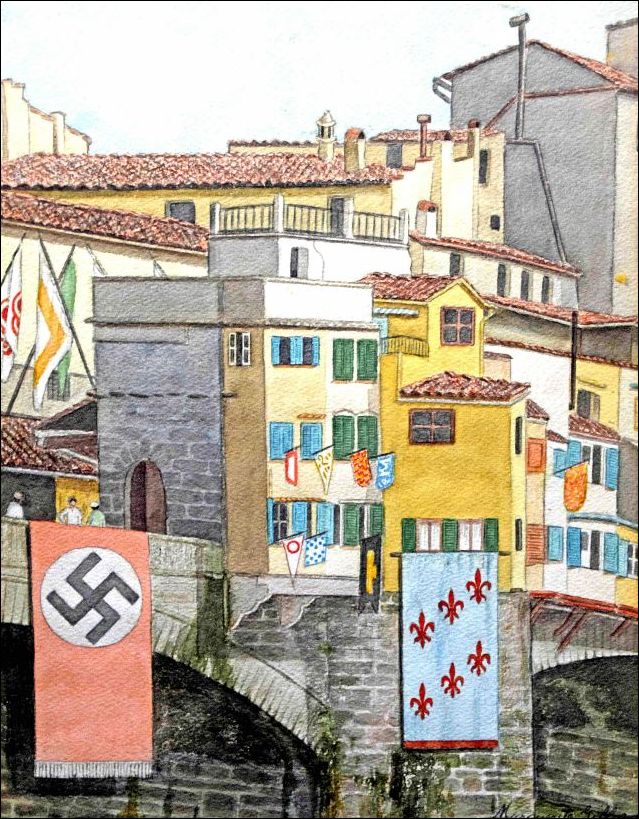 At the end of the summer, the other students returned to their hometowns, but Mrs. Gifford decided to stay in Europe. She toured Rome and Milan, and landed in Florence in May 1938. 
"I found Hitler just arriving to visit Mussolini," she later recalled. The year before Mussolini had been to visit Hitler and had been treated so royally that he was going to return the favor in kind. "They were doing so much to renovate Italy for the visit, that I feared they would ruin it," she later recalled.
"When Hitler arrived in Florence I stood on the curb and watched the automobile holding both of them standing go by.    I was near enough to have touched them on the narrow street. Hitler had on a brown military suit and Mussolini, blue. Hitler looked cold and ordinary and Mussolini warm and expensive. His skin was biscuit-color, his cheeks rosy, his dimples deep, his teeth flashy, his eyes bright. His hat covered his bald head and I liked his square chin.
A Florentine woman standing next to me looked up and said with great reverence, "Isn't he beautiful?" I found it the feeling of everyone in Italy – they adored him and talked ceaselessly about the wonders he was doing for them and the country. Hitler was there to form the Axis and the people did not like it.