East Tennessee Historical Society Museum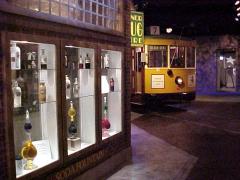 The ETHS Museum offers both permanent and changing exhibits that focus on the rich history and heritage of East Tennessee, as well as unique traveling exhibits from the Smithsonian and other venues.
The East Tennessee Streetscape recreates an urban street corner from the early 1900s. Visitors can wander through the Corner Drug Story and look at medicines and remedies from a bygone era (as well as a few that will still be familiar); they can climb aboard Streetcar No. 416, an original streetcar that once ran through the streets of Knoxville, or they can visit the dentist office and see an original foot-powered dental drill. The streetscape is a special opportunity to step back in time and visit an East Tennessee street corner from the early 20th century.