Ebey's Landing National Historical Reserve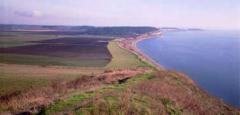 Historical features of the reserve appear to today's visitors much as they did a century ago, when New England sea captains were drawn to Penn Cove.
The reserve was set aside by Congress in 1978 to preserve and protect a rural community—a cultural landscape—that is a laboratory of Pacific Northwest history. Today, historic land uses continue, with the rich prairie soils still being farmed, the forests being harvested, and century-old buildings being used as homes or places of business.
Some of the important stories the reserve interprets to the public are those of Isaac Ebey, a person significant in early territorial government and the first European-American settler to claim land on Central Whidbey island before Washington became a state; the story of settlement under the Donation Land Claim Act between 1850 and 1855; the explorations of Captain George Vancouver in 1792; and the development and growth of the historic town of Coupeville.