Former Governor's Mansion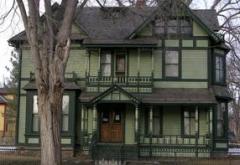 At various times he was a wholesale liquor dealer, register of the Bismarck Land Office, and president of the First National Bank. He sold this house to the state for $5,000 in 1893.
The site consists of a large two and one-half story, restored Victorian house and a carriage house. It housed 21 chief executives between 1893 and 1960. Unique room exhibits feature the restoration process, architectural style changes, and furniture used by several governors.
In 1975 the State Historical Society of North Dakota was given the house with the hope that it would operate as a historic house museum. Extensive research and restoration has been completed, restoring the house to its former appearance as it might have been in 1893. Throughout the house are restoration features which are highlighted to show visitors what work has been done. These features include samples of wallpaper that have been exposed to indicate changes in style and taste.