The Franklin Pierce Homestead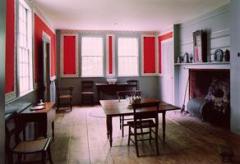 The Pierce Homestead was built in 1804 by Benjamin Pierce the year his son, Franklin, was born. The large spacious rooms, the hand stenciled walls, and the imported wallpaper, symbolize the elegance of the age.
Benjamin Pierce came to Hillsborough in 1786, almost 50 years after the town was first settled. He had served under Washington in the War for Independence, but after the war's end found himself nearly impoverished. The beauty of the land surrounding Hillsborough, and the affordable prices of land attracted him to buy a log cabin with 50 acres of land. After the death of his first wife, Elizabeth Andrews, Benjamin Pierce married Anna Kendrick. By the time the Homestead was built, Benjamin Pierce was a prosperous and prominent man. His career in public service continued for 57 years, during which he was twice Governor of New Hampshire.
The Homestead was a gathering place of great individuals. Here Daniel Webster was entertained, and in the ballroom on the second floor Benjamin Pierce drilled local militia groups, for everyone was a friend of Benjamin Pierce.
The gardens surrounding the Homestead, with their artificial pond, and lattice summer house, were of unusual beauty for their day. The Homestead is an historic reminder of the family that built it, and of an age in which a young America began to grow into the country we know today.