Governor John Sevier Home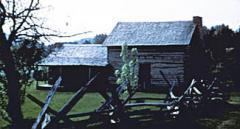 John Sevier (1745-1815), early pioneer, Indian fighter, governor of the failed State of Franklin, and first governor of Tennessee, built a plantation home, which he called Marble Springs, when he came to the state capital, Knoxville, in 1796. The site had been a way station for travelers along the road to Knoxville. He and his wife, Bonny Kate, lived at Marble Springs until his death.
The only original building, the two-story main cabin, has been restored and furnished with Sevier family items and other frontier pieces. Additions include a kitchen, a loom house, a smokehouse, a spring house, and a barn. The Walker Cabin, circa 1830, has been moved to the site and features artifacts and a video presentation. Modern facilities include a pavilion and an outdoor stage. The property was purchased by the state in 1941.