Hanover Area Historical Society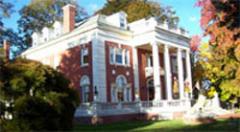 Hanover Area Historical Society, founded in 1965 by local citizens interested in protecting and promoting the historical heritage of the greater Hanover area. The Society selectively acquires, preserves, and provides access to historical buildings and sites and to artifacts and archives that have unique historical significance for this area. The Society also undertakes related programs and activities for the educational, recreational, and cultural benefit of the people of the greater Hanover Area. The Society acquired and restored the Neas House at the corner of W. Chestnut and High Sts.
In October 2007, the Society was given the Warehime-Myers Mansion at 305 Baltimore St. With great volunteer effort, the Mansion was readied for public use. It is regularly open for public tours and rental. The Society also has an 1890's house at 105 High St. where it has its office and a small library. The library holds small collections pertaining to the area's history, and is available to the public by appointment.