Kalaupapa National Historical Park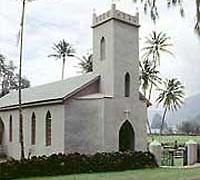 Kalaupapa National Historical Park was established on December 22, 1980. Now more than twenty-five years old, the park is dedicated to preserving the memories and experiences of the past so valuable lessons may be learned. The park's mission is to provide a well-maintained community ensuring the present patient residents of the Kalaupapa Settlement may live out their lives there. The park also supports the education of present and future generations concerning Hansen's disease or leprosy, a disease shrouded in fear and ignorance for centuries.
Access to the park is very restricted. Persons wishing to access the park must prearrange their visit with the Hawaii Department of Health at (808) 567-6924 or contact Damien tours at (808) 567-6171. Access to the park will be denied to anyone that has not made prior arrangements and obtained necessary authorization.