Lyndhurst Historical Society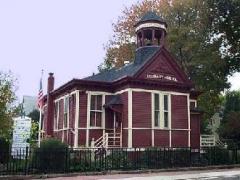 The Lyndhurst Historical Society is a private, not-for-profit organization dedicated to the preservation of local historical sites and the promotion of community pride in our history and traditions. The Lyndhurst Historical Society was established in 1984 in an effort to preserve the 1893 schoolhouse, located at 400 Riverside Avenue, on the corner of Fern Avenue, in Lyndhurst, NJ.
The 'Little Red Schoolhouse,' as it has come to be known, has been the location for special events hosted by the Society, including Strawberry Festivals, craft fairs, Civil War re-enactments, and special visits from 'Eleanor Roosevelt,' 'Abigail Adams,' 'George Washington,' and 'Thomas Jefferson.' The Society also provides walking tours and bus tours of the Township. The walking tours began in 1992 as part of the 75th Anniversary of Lyndhurst celebration. A brochure was published and copies are available at the Lyndhurst Public Library and at the Town Clerk's Office, both located on Valleybrook Avenue. A complete tour takes about one hour, but it can be shortened if needed. Bus tours covering a larger area of the township have been conducted for special festivals or for large groups, such as reunions. Please call the Society if you are interested in walking or bus tours.