Mid Continent Railway Museum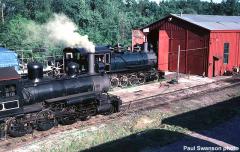 Over the years, the society has added to its collection of rolling stock, laid new track, and constructed shops and display sheds in an effort to create a reputable railroad museum. The members have maintained a very narrow scope in their purpose statement to focus on those railroads that operated in the upper Midwest during what is popularly called the "Golden Age of Railroading." This has given the museum a unique look so that a visitor today feels like they have stepped back in time.
The highlight of the museum is a memorable, seven-mile, 50-minute round-trip ride on a former branch line of the Chicago & North Western Railway through the scenic Baraboo Hills. Passengers ride in restored steel coaches built in 1915. An authentically-attired conductor will call "all aboard!" before the train leaves from an historic wooden depot built in 1894. Train fare includes admission to our Coach Shed filled with restored wooden passenger, freight cars and displays from the turn of the century.
NOTE: Due to flood damage and the subsequent failure of the museum's only operable locomotive, the train rides are currently not running.  Call the museum or check their website for more information on the return of the rides.