Old Capitol Museum In Mississippi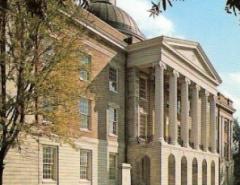 The Governor's Office, Senate and High Court Chambers, and State Library will be restored to their nineteenth-century appearances. The renovated House of Representatives chamber will continue to be used for special programs and events. Other exhibits will tell the story of Jackson as the capital city, the Old Capitol's use in the twentieth century, and the importance of historic preservation.
The 2006 Mississippi legislature provided $14.2 million to restore the Old Capitol after severe damage from Hurricanes Katrina and Rita forced the building to close. The Department of Archives and History, Bureau of Building, and preservation architect Robert Parker Adams are overseeing the restoration of this National Historic Landmark.