Oregon Caves National Monument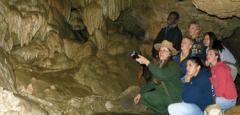 Before this land officially became a National Monument in 1909, the idea of having a hotel and resort at the cave entrance was taking form.
The first permanent building constructed here was the Chalet in 1924, the building which now houses the Visitor Center, but this is not the Chalet as we see it today. The 3rd floor and archway were added when it was rebuilt in 1942. The upper two floors of the Chalet now serve as a dormitory for seasonal guides.
Following the Chalet, several rustic cabins were built in 1926 just up slope from where one passes through the Chalet archway. The cabins were for visitors, but later in 1935, the cabins served as summer ranger residences. All but the one cabin have since been removed due to problems with plumbing leaking into the cave. The last cabin now serves as the resource management office for the National Monument.
Oregon Caves National Monument offers family focused opportunities to explore a marble cave, visit a National Historic Landmark (the Oregon Caves Chateau), hike trails through ancient forests, and earn a Junior Ranger Badge.
The park offer more than cave tours. The monument has several hiking trails that weave in and out of the old-growth forest on the monument. Visitors can see vast views, waterfalls, and widest girthed Douglas fir tree known to exist in Oregon.