Oscar Anderson House Museum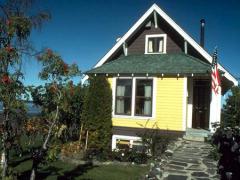 Home to one of Anchorage's early settlers, this family house turned museum preserves a snapshot of the early period of one of Alaska's major cities.
Built in 1915, this house was the wood-frame house built in Anchorage by Oscar Anderson who proclaimed himself to be the "18th person" to arrive in the city. Anderson, successful in the meat, coal, and aviation businesses, built his home when most other Anchorage residents lived in tents. 45-minute tours of the house are available during the summer season.