Ossipee Historical Society & Carroll County Courthouse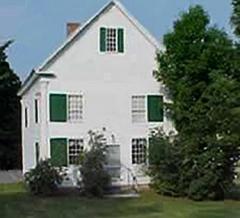 The Ossipee Historical Society, organized in 1920, currently has about 120 members and an active schedule. They hold programs on the third Tuesday of each month, April through September, beginning at 7 p.m., in the historic Carroll County Courthouse, Ossipee Village. The evening begins with a brief business meeting, followed by a program with either a political, historical, educational or musical theme. Refreshments are served after the conclusion of the entertainment. They also sponsor several special events during the year.
In addition to the Courthouse, the Society owns and cares for the Early Settlers Meeting House, dating from the 1820s, located on Granite Road at Leighton's Corner in the Granite section of Ossipee. They also own Grant Hall, located on Route 16B in Center Ossipee, which began life in the 1830s as a general store.