Rock Springs Historical Museum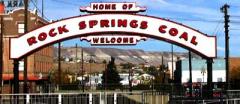 The Museum now housed there is the home of thousands of items of personal and public property collected by the citizens of Rock Springs. One of those items is the Rock Springs Coal sign that graced the city's major crossroads for more than 50 years announcing the town's special place in the pre-diesel railroad world. The sign is flanked by the Depot park which contains other remembrances of the town's coal mining past.
Rock Springs was an integral mining town during the days of westward expansion. Butch Cassidy worked as a butcher here, the genesis of his nickname. The town gained notoriety in 1885 during the Rock Springs Massacre, a race riot against Chinese workers. The town remains linked to coal today.