Sabbathday Lake Shaker Village And Museum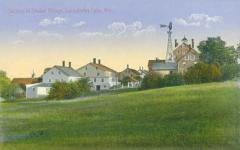 The Sabbathday Lake Shaker Community was founded in 1783, in what was then called Thompson's Pond Plantation, by a group of Shaker missionaries. Residents still strive to live a life of work and worship, fulfilling the motto of their founder, Mother Ann, to "put our hands to work and hearts to God." The Community presently consists of eighteen buildings located on 1,800 acres of land. They maintain a tree farm, apple orchard, vegetable gardens, commercial herb garden, hay fields, pastures, a flock of sheep, and a variety of livestock. Other occupations include manufacturing of fancy goods, basket making, weaving, printing, and the manufacturing of some small woodenware.
The town's museum was first organized in 1931 by Sisters Iona Sedgley and Ethel Peacock in hopes of educating the public about the "truths" of Shakerism. Thousands of visitors have come to explore this unique and sacred place of work and worship.
Six of the 18 existing structures at Sabbathday Lake are open to the public. Throughout these buildings there are twenty-seven exhibit rooms which explore a continuum of over 200 years of Shaker heritage in the Maine Communities.