Staatsburgh State Historic Site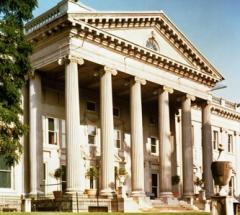 Staatsburgh, is a New York State Historic Site located within the boundaries of Mills-Norrie State Park. It is an elegant example of the great estates built by America's financial and industrial leaders during the Gilded Age. A 25-room Greek Revival structure was built on the site in 1832 by Morgan Lewis and his wife, Gertrude Livingston, replacing an earlier house that had burned down. This second house was inherited by Ruth Livingston Mills, wife of noted financier and philanthropist Ogden Mills.
In 1895, Mr. and Mrs. Mills commissioned the prestigious New York City architectural firm of McKim, Mead and White to remodel and enlarge their Staatsburg home. After completion in 1896, the house was transformed into a Beaux-Arts mansion of 65 rooms and 14 bathrooms. Its exterior was embellished with balustrades, pilasters, floral swags, and a massive portico. The rooms were furnished with elaborately carved and gilded furniture, fine oriental rugs, silk fabrics, and a collection of art objects from Europe, ancient Greece, and the Far East. In 1938, the house and 192 acres were given to the State of New York by Gladys Mills Phipps, daughter of Ruth and Ogden Mills. Regular tours of the mansion are offered from the beginning of April to late October, with special Christmas programs and hours in December. Group and school tours are offered year-round.