Township Of Ocean Historical Museum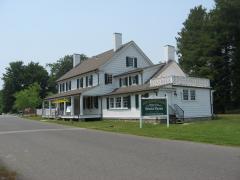 In addition to housing archives, the society prepares displays, exhibits, and published works that encourage understanding of local history.
In 1970 The Township of Ocean Historical Society was formed to advance public awareness of community history as well as to preserve artifacts and materials that gave witness to that history. The Society met in the Public Library. By the early 1980's there was a need for a permanent space to collect,display and promote an appreciation for the history of Ocean Township.



In 1983 a group of interested citizens asked the Township of Ocean Board of Education for use of a classroom in the former Oakhurst School to start a community museum to preserve and exhibit artifacts, records, and photos of the area. The members of the Board agreed. In 1983 a Museum was established and a new organization was formed to merge the Historical Society into the Township of Ocean Historical Museum Association. The Museum was incorporated, under the provisions of the New Jersey Nonprofit Corporation Act, on April 25, 1984.



From its beginning in 1984, the Museum was founded and developed by interested volunteers who recognized a need and raised funds, constructed exhibits and opened the facility to the public. Volunteers continue to support and maintain the Museum. Many of the founding members are still actively involved in the day to day operation of the Museum
The Township of Ocean Historical Museum occupies Eden Woolley House, located at 703 Deal Road, Oakhurst, New Jersey 07755, in front of the Ocean Township Library and part of Joe Palaia Park. The Eden Woolley House, circa 1747, is one of the few 18th Century Homes surviving in Ocean Township. The house is an architectural gem and a 250+-year repository of local history. It was saved from destruction in 2005 and moved 1,000 feet east to its present

location in Joe Palaia Park. It has been historically restored and open to the public to tell the story of Ocean Township and its surrounding communities. The house was occupied by the Woolley Family for most of its life. Eden Woolley, for whom the house is named, occupied the house from 1835 until his death in 1892, and was one of the five men elected to Ocean Township's first governing body when it was formed in 1849.