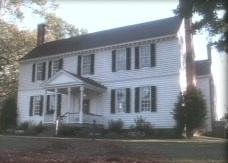 A home to the Randolph family and working farm for nearly 300 years, this plantation was Thomas Jefferson's boyhood home.
Tuckahoe was founded by the Randolph family, one of the preeminent colonial families in Virginia. They were a family with an enormous influence in shaping the habits, customs and politics of both the colony and the nation. The mansion was built in the era of great plantations in Virginia.
Tuckahoe was constructed in two sections, the North first in 1733 and the center hall and South end following in 1740. Original outbuildings line "Plantation Street" making Tuckahoe the most complete 18th century plantation layout in North America. The land was first settled by "Thomas of Tuckahoe", one of the sons of William and Mary Randolph of Turkey Island. It was Thomas's son, William, who is credited with building the mansion visitors know as Tuckahoe today.
Often considered one of the finest existing early-18th-century plantations, Tuckahoe stands on a bluff overlooking the James River. The original outbuildings remain, including the schoolhouse where Jefferson studied.