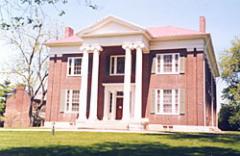 Waveland is considered one of the finest examples of Greek Revival architecture in Kentucky. The home sits atop a small knoll surrounded by 200 acres of Bluegrass farmland. Joseph Bryan constructed Waveland in 1845 on a 2,000-acre tract of land "laid off" by his uncle and frontiersman, Daniel Boone. Washington Allen, a leading Lexington contractor of the day, was hired as builder and foreman of the project. Later members of the Bryan family made Waveland famous for its magnificent trotting horses.
The home contains 14 high-ceilinged rooms and spacious hallways. A monumental pedimented Ionic portico graces the façade. The main doorway is topped by a frieze which is a copy of the north entrance to the Erechtheum on the Anthenian Acropolis. The frieze is supported by pilasters and engaged Ionic columns. The facade is framed by brick pilasters and topped by a deep denticulated cornice.
Many outbuildings are still located on the property including servants quarters, carpenter's shop, harnessmaker and cobbler's shop, fireplace kitchen, print shop, country store, blacksmith's shop, a log house, and ice house. The grounds of Waveland feature an herb garden, flower garden, and orchard. The Commonwealth of Kentucky purchased the property in 1956 for use as an experimental farm and the following year Waveland was designated the Kentucky Life Museum.