Westernport Heritage Society Museum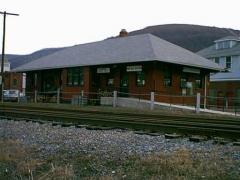 The museum in Westernport recounts the community's industrial history and showcases a collection of railroad artifacts.
The Westernport Heritage Society Museum was founded in 1996 when the local Western Maryland Railroad Station was acquired by the Town of Westernport for use as a museum. Initially, a collection of railroad artifacts was gathered and cataloged for use by its members. Eventually it became evident other memorabilia needed preserved from the era of the Industrial Revolution, which was the historical backdrop for the community's Golden Age.
In the twelve years since, the museum has become the historical focal point for the entire Tri-Towns region, as it houses memorabilia from the three communities surrounding the North Branch of the Potomac River: Westernport and Luke, Maryland as well as Piedmont, West Virginia. The region is steeped in industrial history not only representing three railroads but coal mining and papermaking as well.