Yamhill County Historical Society And Museum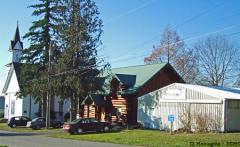 Founded in 1957, the Yamhill County Historical Society is a not-for-profit educational and public service organization engaged to protect, preserve and share the history and heritage of Yamhill County. An exceptional group of quilts and other textiles dating from the 1850s through the twentieth century, and a beautiful assortment of Native American baskets and tools are among the more than 15,000 items found in the Permanent Collection.
The Ruth Stoller Research Library holds photographs, which document the history of the Yamhill Valley, genealogical, archive and resource materials, as well as books by local and regional authors. The Society offers educational opportunities to local and surrounding communities, including outreach projects such as the Covered Wagon Program, which features a full size reproduction of a covered wagon filled with hands-on equipment and operated by educators dressed in period clothing who conduct hands-on learning activities.
In spring 2007, the Society broke ground on a 12-acre multi-phased Yamhill Valley Heritage Center, made possible through a generous land donation from the Kauer and McPhillips families. The new Heritage Center is located at 11275 SW Durham Lane on Highway 18, south of McMinnville on the way to Spirit Mountain Casino.