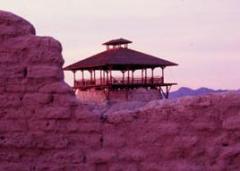 Their crimes ranged from murder to polygamy, with grand larceny being the most common. A majority served only portions of their sentences due to the ease with which paroles and pardons were obtained. One hundred eleven persons died while serving their sentences, most from tuberculosis, which was common throughout the territory. Of the many prisoners who attempted escape, twenty-six were successful, but only two were from within the prison confines. No executions took place at the prison because capital punishment was administered by the county government.
Despite an infamous reputation, written evidence indicates that the prison was humanely administered, and was a model institution for its time.
Schooling was available for convicts, and many learned to read and write in prison. The prison housed one of the first "public" libraries in the territory, and the fee charged to visitors for a tour of the institution was used to purchase books. One of the early electrical generating plants in the West furnished power for lights and ran a ventilation system in the cellblock.
By 1907, the prison was severely overcrowded, and there was no room on Prison Hill for expansion. The convicts constructed a new facility in Florence, Arizona. The last prisoner left Yuma on September 15, 1909.
The Yuma Union High School occupied the buildings from 1910 to 1914. Empty cells provided free lodging for hobos riding the freights in the 1920s, and sheltered many homeless families during the Depression. Townspeople considered the complex a source for free building materials. This, plus fires, weathering, and railroad construction, destroyed the prison walls and all buildings except the cells, main gate and guard tower; but these provide a glimpse of convict life a century ago.