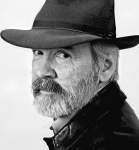 Anthony Brandt is the editor of the Adventure Classics series published by National Geographic Society Press, and the books editor at National Geographic Adventure magazine. Formerly the book critic at Men's Journal, Brandt has written for The Atlantic, GQ, Esquire, and many other magazines,.
He is the author of The Man Who Ate His Boots: The Tragic History of the Search for the Northwest Passage and The South Pole: A Narrative History of the Exploration of Antarctica.
Brandt lives in Sag Harbor, New York.