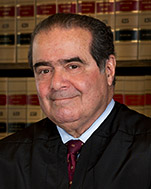 Antonin Scalia was an Associate Justice of the U.S Supreme Court from 1986 until his death in 2016. He was born in Trenton, New Jersey, in 1936. He married Maureen McCarthy and they had nine children.
Justice Scalia received his A.B. from Georgetown University and the University of Fribourg, Switzerland, and his LL.B. from Harvard Law School, and was a Sheldon Fellow of Harvard University from 1960–1961. He was in private practice in Cleveland, Ohio from 1961–1967, a Professor of Law at the University of Virginia from 1967–1971, and a Professor of Law at the University of Chicago from 1977–1982, and a Visiting Professor of Law at Georgetown University and Stanford University. 
He was chairman of the American Bar Association's Section of Administrative Law, 1981–1982, and its Conference of Section Chairmen, 1982–1983. He served the federal government as General Counsel of the Office of Telecommunications Policy from 1971–1972, Chairman of the Administrative Conference of the United States from 1972–1974, and Assistant Attorney General for the Office of Legal Counsel from 1974–1977. He was appointed Judge of the United States Court of Appeals for the District of Columbia Circuit in 1982.