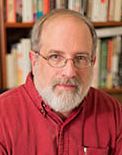 Jim Cullen is the author of over a dozen books and has taught at Harvard, Fordham and Sarah Lawrence College. He currently on the faculty at Greenwich Country Day School in Greenwich, Connecticut and previously taught history for twenty years at the Ethical Culture Fieldston School in New York. He holds a bachelor's degree in English from Tufts University, and a master's and doctoral degree in American Studies from Brown. 
Jim's first book, The Civil War in Popular Culture, was based on his dissertation and published by the Smithsonian Institution Press in 1995. Since then, his books have included Born in the USA: Bruce Springsteen and the American Tradition, The American Dream: A Short History of an Idea that Shaped a Nation, Sensing the Past: Hollywood Stars and Historical Visions, and Democratic Empire: The United States Since 1945. In 2020, he published the first of three planned projects with Rutgers University Press, Those Were the Days: Why All in the Family Still Matters. 
Jim's articles and reviews have appeared in The Washington Post, USA Today, the Cleveland Plain-Dealer, Rolling Stone, and the American Historical Review, among other publications.