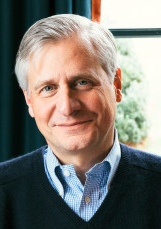 Jon Meacham is a renowned presidential historian, contributing writer to The New York Times Book Review, contributing editor at TIME, and Pulitzer Prize-winning author whose latest books include, The Soul of America: The Battle for Our Better Angels (Random House, 2018) and Destiny and Power: The American Odyssey of George Herbert Walker Bush (Random House, 2015). 
His book, American Lion: Andrew Jackson in the White House, was a New York Times bestseller. His other New York Times bestsellers include Thomas Jefferson: The Art of Power, Franklin and Winston: An Intimate Portrait of an Epic Friendship, which explores the relationship between the two great leaders who piloted the free world to victory in World War II, as well as American Gospel: God, the Founding Fathers, and the Making of a Nation.
A member of the Council on Foreign Relations and of the executive board of the Society of American Historians, Meacham is a regular guest on Morning Joe, Meet the Press, and other broadcasts. After serving as managing editor of Newsweek for eight years, Meacham was responsible for all day-to-day editorial operations of the magazine as editor from 2006 to 2010.