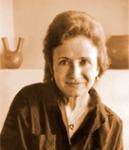 Nancy Wood is a renowned New Mexico author/photographer who has published 32 award winning books in the genres of poetry, fiction, non-fiction, children's and photography.
She began her photographic career in 1962 when she met the legendary Roy Stryker, director of the FSA photography project in the 30's. The FSA employed such photographic giants as Dorothea Lange, Arthur Rothstein, Russell lee, John Vachon, and Walker Evans.
Wood worked with Stryker for the nest ten years, producing the classic book, IN THIS PROUD LAND. He taught her what he called "the art of seeing".
In 1974 Wood set off on her own, documenting rural Colorado. She shot over 12,000 negatives. She applied the techniques that Stryker had taught her. (One dictum was that a photograph has to have three things: a person, an artifact, and a sign.) Many of Woods images are reminiscent of the work of Doratha Lange, and Russel lee. Indeed she considers them her heroes.
In 1984 she came to the Taos pueblo to document a friends traditional Indian Wedding. She stayed five years, making an in depth record of a secretive and shy people. These un-posed, unaffected images, some 10,000 in all, are among the best in the collection.
Nancy Wood is one of the great literary and visual artist of the American West. She has won an NEA Literature Fellowship, the Frank Waters Lifetime Achievement Award, and two awards from the Mountain and Plains Booksellers Association. Last year she won one of photography's highest honors from the National Cowboy and Western Heritage Museum for her book EYE OF THE WEST. (UNM Press 2007)
Ms. Woods' photography is on display at the Gerald Peters Gallery in Santa Fe.