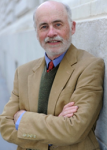 Peter Quinn joined Time Inc. as the chief speechwriter in 1985 and retired as corporate editorial director for Time Warner in 2007. He received a B.A. from Manhattan College in 1969, an M.A. in history from Fordham University in 1974 and completed all the requirements for a doctorate except the dissertation. He was awarded a Ph.D., honoris causa, by Manhattan College in 2002.
His 1994 novel Banished Children of Eve (Viking/Penguin) won a 1995 American Book Award. Looking for Jimmy: In Search of Irish America (Overlook), a collection of non-fiction pieces, was published in February 2007.
Quinn has completed a trilogy of historical detective novels built around Fintan Dunne, an ex-cop and veteran of the OSS. Hour of the Cat (Overlook, 2005) is set in Berlin and New York on the eve of WWII. The Man Who Never Returned (Overlook, 2010) focuses on the still-unsolved 1930 disappearance of NYS Supreme Court Justice Joseph Crater. Dry Bones (Overlook), which will be published in Nov. 2013, opens in Slovakia in 1945 and ends in Havana, Cuba, in 1959. All Quinn's books are in print.
Along with his book writing, Quinn was the editor of The Recorder: The Journal of the American Irish Historical Society from 1986 to 1993. He has published articles and reviews in The New York Times, Commonweal, America, American Heritage, The Catholic Historical Review, The Philadelphia Enquirer, The L.A. Times, Eiré-Ireland, and in numerous other newspapers and journals.
At present, Quinn is on the advisory boards of the American Irish Historical Society, NYU's Glucksman Ireland House, and the Tenement Museum.