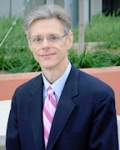 Stephen Bates is a professor at the Greenspun School of Journalism and Media Studies at the University of Nevada, Las Vegas.
Bates is the author, coauthor, or editor of four books, as well as academic articles on privacy, obscenity, libel, reporter's privilege, political advertising, and journalism history. His writing has appeared in the Wall Street Journal, the New York Times, the Washington Post, Slate, and the Wilson Quarterly, where he is a contributing editor.
He has been a fellow of the Woodrow Wilson International Center for Scholars, the Annenberg Washington Program in Communications Policy Studies, and the Joan Shorenstein Center on the Press, Politics, and Public Policy at Harvard University.