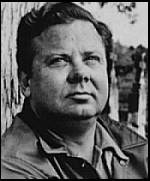 William "Willie" Morris (1934–1999) was an American writer and editor born in Jackson, Mississippi who write lyrical prose and reflections on the American South, particularly the Mississippi Delta.
In 1967 Morris became the youngest editor of Harper's Magazine and edited it for four years before leaving.
Morris wrote several works of fiction and non-fiction, including his seminal book North Toward Home, as well as My Dog Skip.