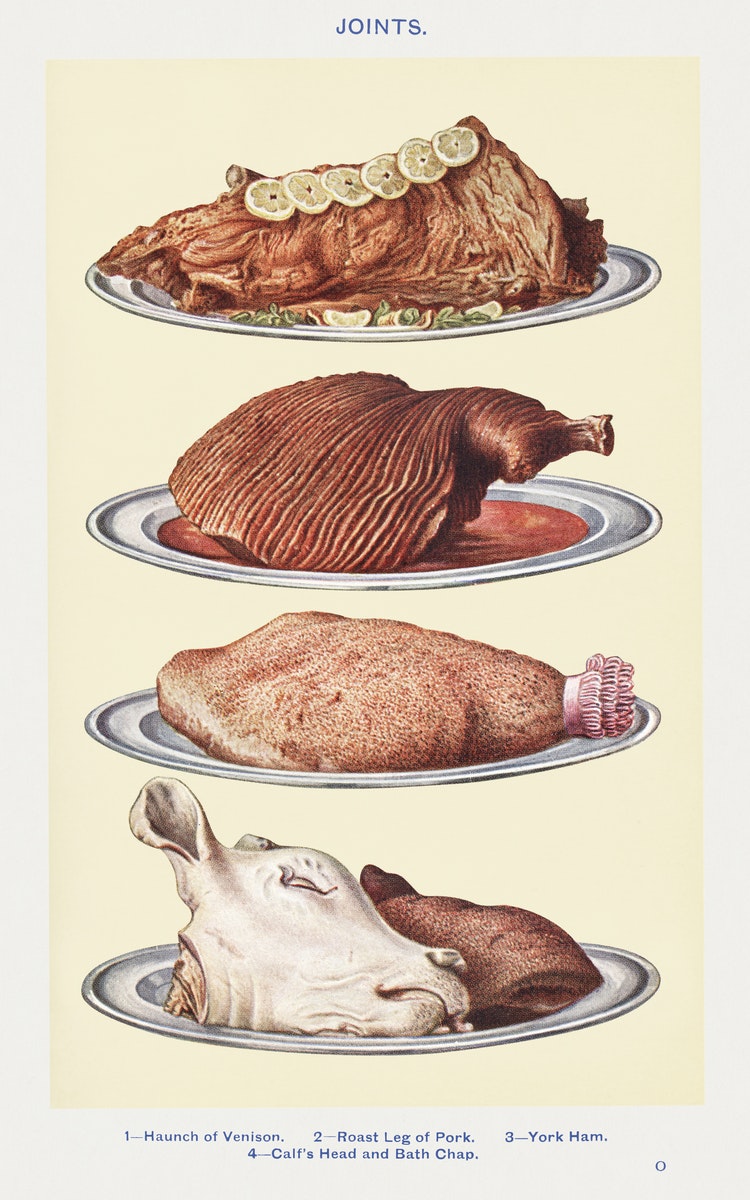 Recipe Instructions
Score the fat on the roast lightly, then rub the entire surface with flour, salt, and pepper. Place on a rack in a shallow roasting pan. Roast in a preheated 450° oven for 15 minutes, then reduce heat to 350°, and continue roasting 30 to 35 minutes per pound, basting frequently with the glaze. Serves 6. 
To make the glaze: Pour sugar in a heavy skillet and cook over a moderate heat until it becomes a rich, golden brown liquid. Pour in half a cup of boiling water, a little at a time (mixture sputters at this point, so stand back), and cook, stirring constantly with a spoon, until all lumps have dissolved. Measure 1/2 cup of the caramel syrup and combine it with vinegar and hickory-smoked salt. 
To roast in a rotisserie: Prepare pork as directed above, start the rotisserie at 450°, and revolve slowly for 15 minutes or until meat begins to turn brown. Then reduce heat to 350° and baste, at frequent intervals, with glaze. Allow 30 to 35 minutes per pound. 
Description
Kitchen stoves, although invented in the late eighteenth century, were not immediately taken up by American housewives. Indeed, they were resisted well into the nineteenth century. One of Eliza Leslie's books giving instructions for fireplace cookery was still being published in 1870. This pork roast, then, was cooked even until that late date in a reflecting oven, a device with its open side facing the fireplace and its curved metal back facing out. The meat was placed on a spit in the reflecting oven and turned by hand. Today the same effect can be achieved in a modern rotisserie. 
Recipe Ingredient
A 5- to 6-pound loin of pork 
Flour 
Salt 
Pepper 
Glaze: 
1 cup sugar 
1/3 cup cider vinegar 
1 teaspoon hickory-smoked salt