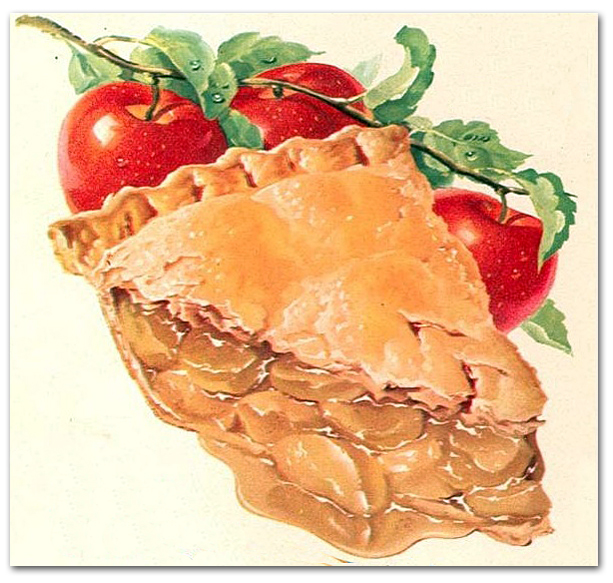 Recipe Instructions
Prepare the pastry. Divide in half, line a 9-inch pie pan with one portion, and save the remainder for the top. Refrigerate both while you make the filling. Measure the sliced apples. You should have about 4 cups. Mix apple slices with sugar, salt, cinnamon (if you use it), lemon rind, and lemon juice. Arrange a row inside chilled pastry shell, about one-half inch from edge, and work toward center until shell is covered. Pile remaining slices on top. Dot with butter and cover with top crust, slashed in several places. Seal edges securely and crimp. Bake in a preheated 450° oven for 10 minutes. Reduce heat to 350° and bake 30 to 35 minutes. Five minutes before pie has finished baking, brush top with cream and sprinkle generously with sugar. Serve warm or at room temperature with Cheddar cheese or ice cream.
Description
An immigrant living in Beloit, Wisconsin, wrote on November 29, 1851, to friends back in Norway: "Strawberries, raspberries, and blackberries thrive here. From these they make a wonderful dish combined with syrup and sugar, which is called pai. I can tell you that is something that glides easily down your throat; they also make the same sort of pai out of apples or finely ground meat, with syrup added, and that is really the most superb." A hundred years earlier, in 1758, a Swedish person named Dr. Acrelius had written home: "Apple-pie is used through the whole year, and when fresh apples are no longer to be had, dried ones are used. It is the evening meal of children. House-pie, in country places, is made of apples neither peeled nor freed from their cores, and its crust is not broken if a wagon wheel goes over it." 
Apple Pie is what some things are as American as, and it has, in various forms, been eaten for breakfast, for an entree, and for dessert. Some of the first orchards in New England were planted by William Blaxton, a clergyman who owned, for a time, a farm on Beacon Hill. He moved to Rhode Island in 1635 and raised what is now called the Sweet Rhode Island greening - the first apple, as a distinct type, to be grown in the United States. 
Recipe Ingredient
Pastry for a 2-crust pie 
4 large greenings (peeled, cored, and sliced very thin) 
1 cup sugar 
1/4 teaspoon salt 
1/2 teaspoon cinnamon (optional) 
Grated rind of 1/2 lemon 
1 tablespoon lemon juice 
Butter 
Cream