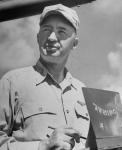 Admiral Joseph J. "Jocko" Clark, USN (1893 – 1971) commanded aircraft carriers during World War II and was the author of Carrier Admiral with Clark G. Reynolds (1967). Born and raised in Oklahoma and a native of the Cherokee Nation, he was the first Native American to graduate from the United States Naval Academy, in 1917.
During World War II, Clark commanded the carriers Suwannee (ACV-27) and Yorktown (CV-10). He was known as an aggressive commander, ready to take his group into battle. In 1944 he was promoted to Rear Admiral and given command of Task Group 58.1 and served under the commands of Admiral Mitscher of the Fast Carrier Task Force, and Admiral Spruance, commander, Fifth Fleet. He commanded Task Group 58.1 in the Marianas campaign, and on multiple occasions his group was sent north to interdict Japanese aircraft being shuttled down from Japan. His air groups conducted frequent attacks on Chichi and Iwo Jima. He operated his task group in conjunction with the rest of Task Force 58 in the Battle of the Philippine Sea. His flagship was the carrier Hornet (CV-12). On the second day of the battle, with his planes returning after sundown, Clark ordered his ships to light up, allowing most planes to land safely.
Clark commanded the Fast Carrier Task Force (TF 77) during the Korean War. He was later promoted to Vice Admiral and rose to command the 7th Fleet.