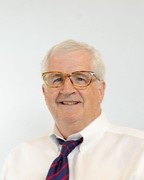 Charles S. Clark is a veteran Washington journalist who has written and edited for The Washington Post, Congressional Quarterly, National Journal, Government Executive, and many other publications.
Clark is the author of George Washington Parke Custis: A Rarefied Life in America's First Family, about the life of George Washington's stepgrandson, and is a former research fellow at the Washington Library at Mount Vernon. 
A native of Arlington, Virginia, Clark is also the author of Arlington County Chronicles, Hidden History of Arlington County, and Lost Arlington County, all published by The History Press.