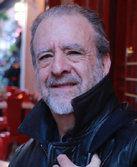 Jonathan Cohen is a poet, translator, essayist, and scholar with expertise in inter-American literature. His essays on American topics have appeared in numerous periodicals, including The New York Times, The Hudson Review, Literary Imagination, and The American Voice. 
Cohen is the author of A Pan-American Life (Wisconsin), the first biography of poet-translator Muna Lee, and he is the editor/compiler of the first collection of William Carlos Williams's translations of Spanish-language poetry, By Word of Mouth (New Directions). 
Cohen obtained his MFA in creative writing from Columbia University and PHD in English from Stony Brook University. For more information about his work, see jonathancohenweb.com.