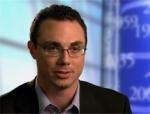 Joshua Zeitz is a historian and the author most recently of Lincoln Boys, a biography of the President's two closest aides and their many accomplishments after the Civil War, including efforts to document Lincoln's achievements. "Zeitz has pulled off a difficult task -- revealing how the myth of Lincoln came to be without distorting the true greatness of our extraordinary 16th President," said filmmaker Ken Burns about the book.
Previously, Zeitz  wrote several other books including Flapper: A Madcap Story of Sex, Style, Celebrity, and the Women Who Made America Modern, and White Ethnic New York: Jews, Catholics, and the Shaping of Postwar Politics.
In addition to writing frequently for American Heritage, Zeitz has published articles in the New York Times, Washington Post, Los Angeles Times, The New Republic, The Atlantic, and Dissent. He appeared as a commentator on two PBS documentaries – Boomer Century, and Ken Burns' Prohibition — and has commented on public policy matters on CNBC and CNN International.
After earning his Ph.D. in American History from Brown University, Zeitz lectured at Harvard University, Cambridge University, and Rutgers University. And in 2008 he was candidate for New Jersey's 4th District in the House of Representatives.