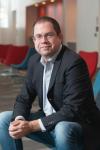 Richard Bell is a professor of history at the University of Maryland. He is the author of Stolen: Five Free Boys Kidnapped into Slavery and Their Astonishing Odyssey Home, which was a finalist for the 2020 George Washington Book Prize.
Bell has held research fellowships at more than two dozen libraries and institutes. He has served as the Mellon Fellow in American History at Cambridge University, the National Endowment for the Humanities Fellow at the American Antiquarian Society, a Mayer Fellow at the Huntington Library, a Research Fellow at the Gilder Lehrman Center for the Study of Slavery, Abolition and Resistance at Yale University and as a Resident Fellow at the John W Kluge at the Library of Congress.
Bell received his PhD from Harvard University and his BA from the University of Cambridge. He is also a frequent lecturer and debater on the C-Span television network.