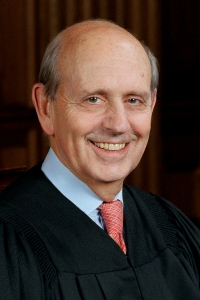 Stephen Breyer is an associate justice of the Supreme Court of the United States. He was nominated by President Bill Clinton (D) to fill the seat left vacant by Harry Blackmun and was sworn in on August 3, 1994.
Breyer began his legal career clerking for Supreme Court Justice Arthur Goldberg. He held several government attorney roles, including assistant special prosecutor on the Watergate Special Prosecution Force and the chief counsel of the U.S. Senate Judiciary Committee.
In 1980, President Jimmy Carter (D) nominated Breyer to sit on the United States Court of Appeals for the 1st Circuit. He served on the court from 1980 to 1994 and was chief judge in his final four years there.
Breyer's notable opinions include the majority opinion in the recess appointment case NLRB v. Noel Canning and his dissenting opinion in the copyright law case Eldred v. Ashcroft.