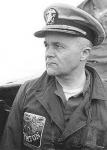 Edward Latimer Beach, Jr. (1918 – 2002) was a highly-decorated United States Navy submarine officer and author. Beach's novel, Run Silent, Run Deep, appeared on The New York Times Book Review bestseller list for several months and was made into the 1958 movie by the same name starring Clark Gable and Burt Lancaster.
In all, Beach published thirteen books. His first book, Submarine! (1952), was a compilation of accounts of several wartime patrols made by his own as well as other submarines, which TIME magazine called "the liveliest and most authentic account of underseas combat to come out of World War II." He also authored Dust on the Sea (1972), relating in detail a war patrol by USS Eel (SS-354) leading a wolf pack; Cold is the Sea (1978), set in 1961 aboard a nuclear submarine; The Wreck of the Memphis (1966); and United States Navy: 200 Years (1986), a general history of the Navy.
During World War II, Beach participated in the Battle of Midway and 12 combat patrols, earning 10 decorations for gallantry, including the Navy Cross. After the war, he served as the naval aide to the President of the United States and commanded USS Triton, the first submarine to circumnavigate the world while submerged.