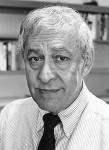 Elie Abel (October 17, 1920 – July 22, 2004) wrote extensively on communism, politics, and history during his six decades as a journalist.
He led the New York Times' Belgrade office as bureau chief during the 1956 Hungarian revolts and covered the 1958 Chinese takeover of Tibet from his post in New Delhi.
Upon returning to the United States in 1959, he took a broadcast position with NBC News that he would hold until his appointment as dean of Columbia University's Graduate School of Journalism in 1970. He transferred from Columbia to Stanford in 1979 and remained with the university until 1994.
Abel's books include The Missile Crisis (Bantam 1966), What's News: The Media in American Society (Institute for Contemporary Studies 1981), and The Shattered Bloc - Behind the Upheaval in Eastern Europe (Houghton Mifflin Company 1990).