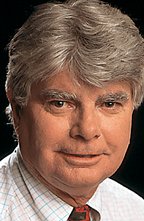 James Brady profiled celebrities for twenty-five years in his widely read "In Step With" column for PARADE Magazine. He also wrote the popular "Page Six" gossip column in the New York Post and W magazine, as well as a weekly column for Advertising Age.
Brady wrote several books related to war, including The Coldest War: A Memoir of Korea and Why Marines Fight, and a couple of novels.
He served as a United States Marine Corps officer in the Korean War.