May/June 1999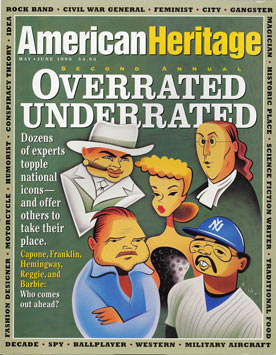 Departments
History Happened Here
In the News
Letter From the Editor
MY BRUSH WITH HISTORY
The Business of America
The Time Machine
Features
Should John Adams, Ebbets Field, the sixties, and Tocqueville be knocked off their pedestals? Are Ben Franklin and Bob and Ray far greater
than you ever imagined? Our second annual survey asks experts in every field what reputation is the most inflated and what's most underappreciated.
Thomas Berger, the author of a classic novel of the American West, speaks about its long-awaited sequel—and about what is to be learned in the challenging territory that lies between history and fiction
THE FOUNDER, BELIEVING HIS RACE A FAILURE, TOOK HIS OWN LIFE. BUT HIS CONTEST SURVIVED HIM, ENDURING SEVERAL BRUSHES WITH EXTINCTION TO BECOME AMERICA'S LONGEST-RUNNING SPORTS TRADITION. IT TURNS 125 THIS SPRING.