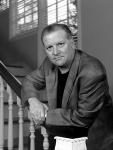 Lucian King Truscott IV is a former staff writer for The Village Voice, screenwriter, and author of several military-themed novels including Dress Gray, which was adapted into a 1986 television film. A graduate of the U.S. Military Academy, he followed the 101st Airborne Division at the beginning of the Iraq War and wrote a series of articles. 
He publishes the Lucian Truscott Newsletter on Substack and also writes a column for Salon.com. He can be followed on Facebook at The Rabbit Hole and on Twitter @LucianKTruscott.
Truscott is a descendant of Thomas Jefferson and for twenty years has fought for the rights of Sally Hemings's lineage to be recognized and supported by the Monticello Association. He wrote the introduction to Jefferson's Children, the Story of One American Family, by Shannon Lanier (a descendant of Sally Hemings) and Jane Feldman.