The Woman Who Said "No" to War
Bruce Watson, a Contributing Editor of American Heritage, writes blogs for our website and his own at TheAttic.space.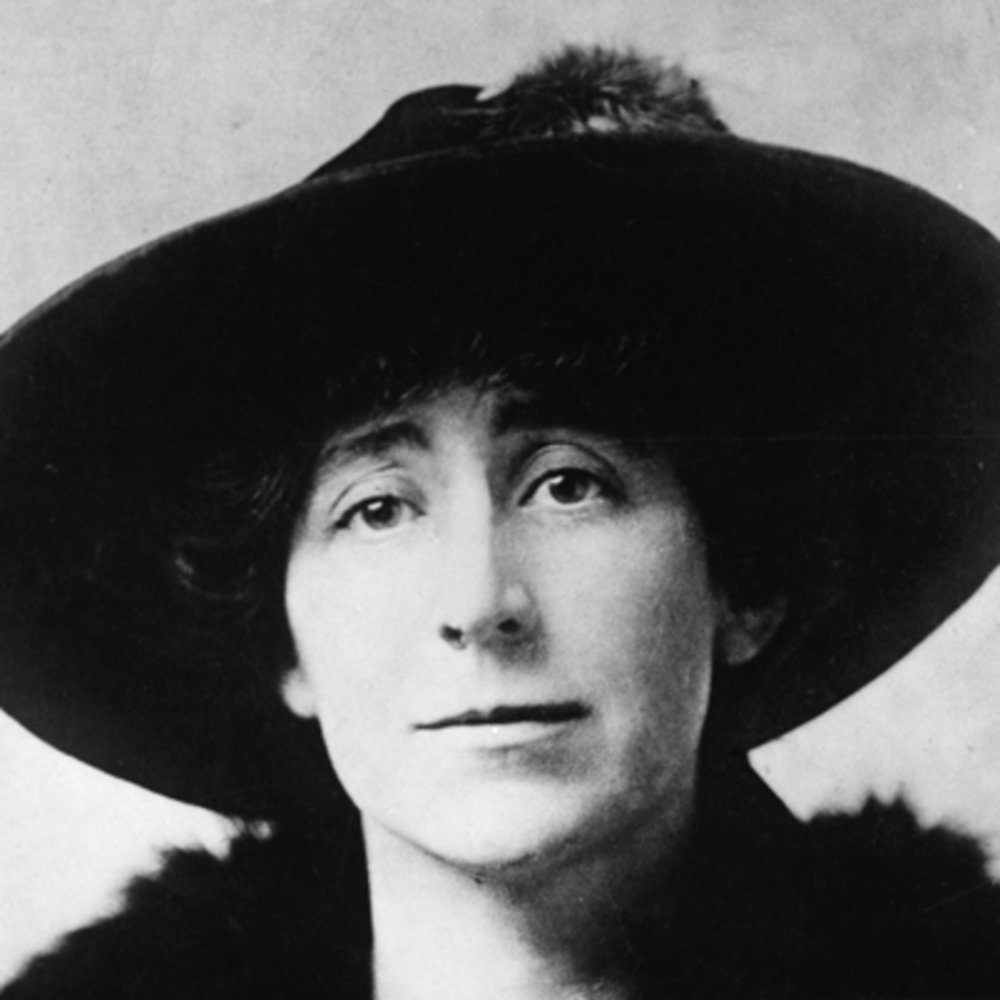 The drums of war were sounding when, in March 1917, Jeannette Rankin arrived in Washington DC.  As the first woman to serve in Congress, she was ready to fight for women's suffrage, against child labor, and for families nationwide.  But war intervened -- twice.
Feisty and free-thinking, Jeannette Rankin is scarcely the type of politician we have come to expect.  But a century ago, when campaigns were waged by train and votes tallied by hand, Rankin embodied the fierce individualism that made Americans proud. Her election to Congress would have made history even had she not said "no" to war.  But uncompromising principle made her "America's conscience."
Montana was still a territory when Rankin was born in Helena in 1880, the oldest of seven children.  Her brother, Wellington, was the family favorite, being the only boy in the brood, but Jeannette took on any family chore her brother could.  Montana, with its sawtooth mountains and vast prairies, did much to shape her, yet she had a lifelong love/hate affair with the state. "Go! Go! Go!" she wrote in an early journal. "It makes no difference where just so you go! Go! Go!  Remember at the first opportunity, go!"
She never stopped going.  All her life she would pack up and move, travel, investigate, move again.
Rankin advocated for woman's suffrage, child welfare, urban reform, and -- above all else -- peace.
Teaching -- her mother's profession -- frustrated her.  Admiring Jane Addams' Hull House, Rankin worked in a similar settlement house but "couldn't take" the poverty.  During America's Progressive Era (1900-1915), causes called.  Child welfare.  Women's suffrage.  Urban reform.  Rankin worked for all but with Europe plunged into war, she was drawn to the oldest cause of all -- peace.  Then in 1915, when Montana gave women the vote for all offices except president, her path was cleared to Congress.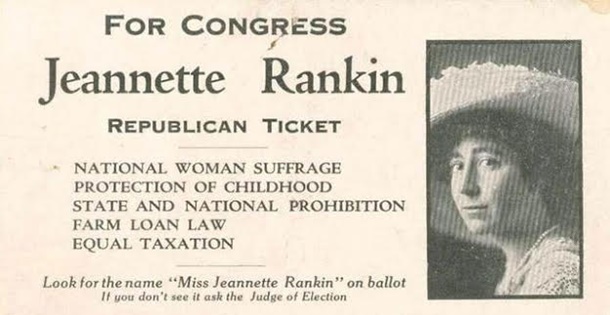 She ran a dazzling campaign.  Though branded "brazen" and "unladylike," she spoke all over the enormous state.  The Montana Republican party wanted her off their ticket but her rallies grew.  One, she recalled, "drew more people than the Missoula theater could hold, despite a wet snowstorm."  Come November, she came in second.  But Montana's "at large" system gave seats to the top two vote getters.  By a margin of 7,567 votes, Jeannette Rankin, a straight-laced woman in a flowered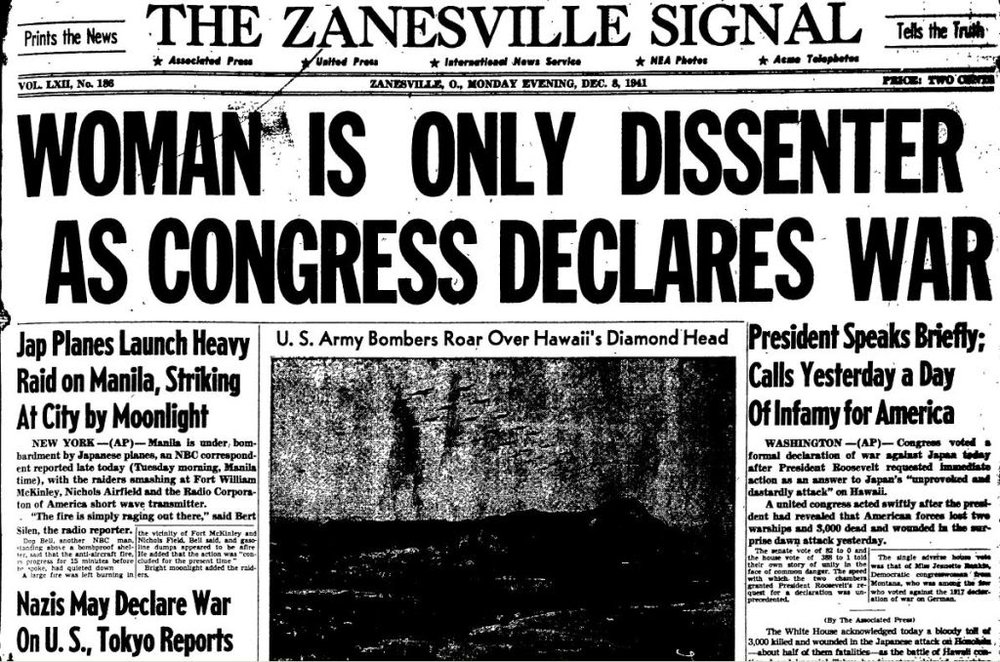 hat, went to Washington, DC.
Five days after she arrived, President Woodrow Wilson addressed Congress, calling for US entry into The Great War.  Rancorous debate followed.  Fifty other Congressmen voted "no," but it was the Congress-woman's vote that stood out.  "I wish to stand for my country," she said, "but I cannot vote for war."  Later she said, "I felt the first time the first woman had a chance to say no to war, she should do it." One Montana paper denounced her "fit of female hysteria," but another said, "We hold Miss Rankin wholly sincere in her vote and this should relieve her of any unnecessarily harsh criticism."
Montanans cherished independence but Anaconda Copper was not happy with Rankin's support for a mining strike.  To defeat her, the state legislature divided Montana into two Congressional districts, east and west.  Rankin, having no chance of winning in either, ran for Senate in 1918.  Her loss began a twenty-year exile.
After losing her bid for re-election, Rankin was in exile for 20 years before being elected a second time -- just before the attack on Pearl Harbor.
Reading Thoreau, she lived in a small Georgia cabin without water or electricity.  She helped Jane Addams start the Women's International League for Peace and Freedom.  But for two decades, she longed for another shot at Congress.  And in 1940, still a Republican, now an avowed pacifist, she was elected again.
She knew her second term would not be "thrilling like the last time," but she saw a parallel.  Throughout the summer of 1941, another war was looming.  If Congress voted again, all eyes would be on her.  "I didn't let anybody approach me," she recalled.  "I just drove around Washington and got madder and madder because there were soldiers everywhere I went."  Then -- Pearl Harbor. 

On December 8, 1941, FDR spoke of America's "rendezvous with destiny."  With American battleships in flames, there was no peace bloc as in 1917.  Every Congressman voted for war -- except one.  When her name came in the roll call, Rankin softly said "no."  Hisses erupted.  Reporters followed her from the chamber, cornering her in a cloak room.  The press blasted her.  Letters called her a "Judas" and a "yellow-livered publicity-seeking disgrace to woman kind."
Rankin refused to apologize.  "Everyone knew that I was opposed to the war, and they elected me," she said.  "I voted as the mothers would have had me vote."
Knowing her "no" had ended her political career, she did not run for re-election.  She returned to her reclusive life, speaking occasionally, traveling widely.  Then, all but forgotten, she inspired another generation of pacifists.
In 1968, at the age of 88, she led 5,000 black-clad women, the Jeannette Rankin Peace Brigade, in a march protesting the Vietnam War.  "If we had 10,000 women willing to go to prison if necessary," she said, "that would end it."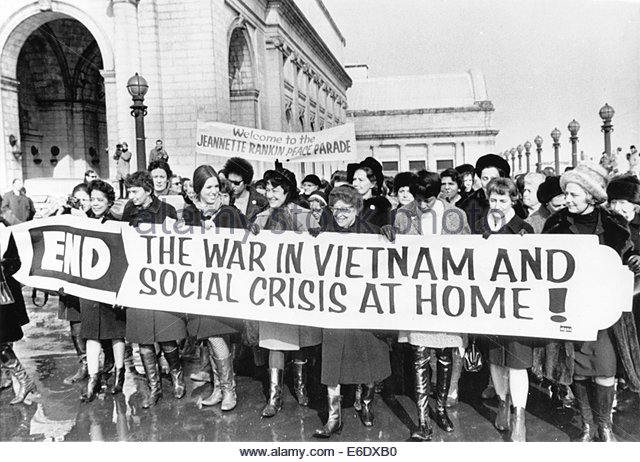 Jeannette Rankin died in 1973.  Wars have come and gone, some "good," some senseless, all devastating.  But courage, too, comes in many forms.  And the US Capitol Building now hosts a statue of a straight-laced woman in a flowered hat.  Etched in the pedestal are the words -- "I cannot vote for war."