The mid-1970s Holiday Inn slogan, "The best surprise is no surprise," may have reflected a comforting predictability in road travel, but it also signaled a decline in one of its greatest pleasures: being in a place very different from home. Before long, backlit plastic replaced the Holiday Inn's exuberantly tacky "Great Sign," and another roadside icon transformed itself into an interchangeable component of a nationwide neighborhood. In Duluth, Georgia, a prototype Holiday Inn has begun an impressive effort to reclaim the sprightly spirit radiated by the original sign.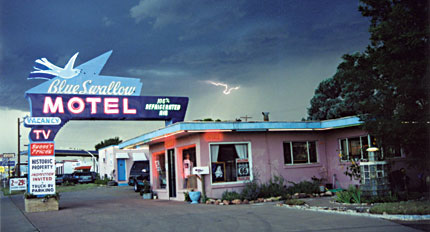 But why not search for an original, a mom-and-pop motel that has clung to the highway despite the homogenization of interstate culture? Along with my photographer colleague and wife, Jenny Wood, I have spent the past 10 years seeking out classic roadside motels that never forgot their roots. Our newest book, Motel America: A State-by-State Tour Guide to Nostalgic Stopovers (Collectors Press), features photographs, interviews, and stories about some of the nation's most timeless budget stops, from neon beauties to dusty no-tell motels. Here are a few of our favorites.
Naturally, you'll want to start on a trip along the greatest two-laner of them all, Route 66, the "Mother Road" of John Steinbeck's The Grapes of Wrath. The highway, now mostly known as I-40, wanders diagonally from downtown Chicago southwest toward the Pacific Coast. Along the way be sure to stop by Lebanon, Missouri's Munger Moss Motel. Maintaining a towering neon sign, Bob and Ramona Lehman have preserved a Mother Road institution since 1971. Nearby Rolla hides the remains of John's Modern Cabins, where Burma Shave–style signs warn, "Photograph these while you're here. The wrecking ball is looming near." After crossing into Oklahoma, check out Chandler's Lincoln Motel. Built in 1939, this site earns its reputation as the nicest motel in the Sooner State. But the one must-stop along the Mother Road remains the Blue Swallow Motel in Tucumcari, New Mexico. There can be few more genuinely classic roadside experiences than sitting under the glow of the neon bird as the cars of your less fortunate fellow travelers roll on past through the twinkling dusk. In California the essential Route 66 stop awaits in Barstow at the Route 66 Motel, where Ved and Mridu Shandil demonstrate through their loving restoration of a former flea-bag the potential for the most windblown city to possess the nicest digs, if you care to look.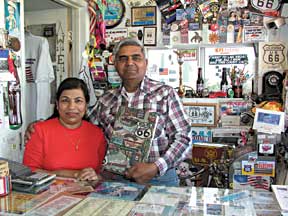 Beyond Route 66 you'll find similarly classic lodgings in every part of the country. At the Lincoln Motor Court in Manns Choice, Pennsylvania, Deb and Bob Altizer maintain 1940s cabins that offer all the charm of country life and none of the distractions of our modern era (like telephones). East of Salina, Kansas, the Simmer Motel presents possibly the most comfortable beds you'll find outside the big city. In Coeur d'Alene, Idaho, the Flamingo Motel has branched into fancy "theme rooms," but the Magic Fingers boxes still work. California's Madonna Inn, in San Luis Obispo, sneaks into the list despite its once-in-a-lifetime prices. On the way out of town, snap a photo of the Motel Inn, also in San Luis Obispo. You're standing on hallowed ground; here the first roadside inn was called a motel.
Finally, don't forget to spend a night in a teepee at one of three surviving Wigwam Villages in Cave City, Kentucky; Holbrook, Arizona; or Rialto, California. These wonderful examples of mimetic architecture are the surviving relics of Frank A. Redford's tiny chain of Indian-themed motels. For a while the Rialto version was politely ignored in enthusiasts' celebrations of the Wigwam Village—probably because of its long-running slogan, "Do it in a Teepee." But new management has taken over, the suggestive sign has been replaced, and fresh paint has appeared once more on the tall, 10-sided rooms—one more mom-and-pop motel back from the brink.
Keywords