Cruising the briefly embattled San Juan Islands 
From a cab hurtling down the West Side Highway en route to Newark Airport from New York City, I spied the looming superstructures of three giant ships. They were waiting to take on their complements of 2,000 or more passengers heading for weeklong Bermuda cruises. I was traveling to the other side of the country to join the 138-passenger Yorktown Clipper and sail along the isolated, rugged coast stretching north from Seattle to Vancouver, a journey of about 219 nautical miles. I felt privileged. In today's world of ever-larger passenger ships, some now at 150,000 tons and carrying as many as 3,000 travelers, the 2,354-ton Yorktown Clipper and its like threaten to become an endangered species. Not, of course, if fans of small-ship travel have anything to say about it.

In the heart of Seattle's busy waterfront I easily spied the gleaming white Yorktown Clipper, tiny as it might be compared with the giants. Here it dominated its fellow craft—the ferries, sailboats, and kayaks that make their home here. The skyline, soaring behind the harbor and burnished by late-afternoon September light, appeared slightly unreal, a stage set of urban aspiration.
We would be putting urban behind us, at least for the first part of the five-day cruise. The ship sailed at midnight and arrived the next morning, a spectacularly sunny day, at Friday Harbor on San Juan Island. With a year-round population of 1,900, Friday Harbor is the largest town in the San Juans. The hundreds of windswept islands that make up the San Juan archipelago, between Washington State and Vancouver Island, share a U.S.– Canadian border and a history that is mostly peaceful. From the deck of a ship the view is entrancing as island after hill-topped island draws near and then gives way to the next; the air is spiced with salt and the pine and cedar that grow thickly here. Together the San Juans and Canada's Gulf Islands reach from Puget Sound to British Columbia's Inside Passage. Their Canadian and American inhabitants seem to have more in common with each other than with what islanders refer to, with a faintly dismissive tone, as the mainland, whichever side of the border they mean.
Still, the placing of boundary lines through these waters was once the big story here, culminating in the 1859 Pig War. The Joint Occupation Treaty of 1818 had opened to British and American settlers the vast Oregon Territory (covering present-day Washington, Oregon, and Idaho and parts of Montana, Wyoming, and British Columbia). Years of stewing about this arrangement resulted in the Oregon Treaty of 1846, which gave the United States all lands south of the forty-ninth parallel (Washington's northern border) but left a loophole in the way of a watery boundary vaguely referred to as "the middle of the channel."
Which channel in this braided waterway? That remained of keen interest to the British who ran the Hudson's Bay Company and to the handful of Americans settled on San Juan Island. When an American farmer shot a Hudson Bay pig, the incident came to resemble a mini version of Manifest Destiny. At the height of tension, when both countries backed up bluster with force, 461 Americans with 14 cannon faced five British warships and 2,140 troops. Leading the Americans was Capt. George Pickett. "We will make a Bunker Hill of it," he supposedly said. (Two years later the Virginia-born Pickett resigned his commission to join the Confederate cause, and in 1863 he saw his name attached to the defeat at Gettysburg.) Before any shots were fired on San Juan Island, President Buchanan dispatched the old Mexican War hero Winfield Scott to work things out. "It would be a shocking event if … two nations should be precipitated into a war respecting the possession of a small island," Buchanan wrote. With the resulting agreement both nations maintained a token force on the island until 1872, when Kaiser Wilhelm I, of all people, forged a final settlement. He set the boundary in a channel west of San Juan Island, thus awarding it to the United States.

Today you can tour English and American Camps, both administered by the U.S. National Park Service. It's clear that the British were more comfortably settled in the tree-sheltered Garrison Bay, while the Americans occupied a broad, nearly desolate expanse along Fourth of July Beach. Several historic structures survive in each place, including officers' quarters built during Pickett's tenure.
Mike Vouri, the Chief Interpreter for San Juan Island National Historical Park has written about the social contacts that developed between the troops of the two nations as they settled into their joint occupation of 12 years. He tells how they would come together on holidays like the Fourth of July and Queen Victoria's birthday. Each summer's Encampment Event re-creates these visits. Last year's memorial service at the Royal Marine cemetery honored those buried there, with the participants in Victorian dress.
It's good to think of the two sides restored to amity after that comic-opera near-war over a pig. San Juan Island is a place of peace, open spaces, and spectacular beauty, with dense stands of forest, low hills, fields of flowers, and winding lanes with names like Cowpath to indicate their prior uses. Everywhere are glimpses of the sea. The island draws fishermen and boaters, and its shores are home to a variety of birds, seals, otters, and, not far off, pods of whales. Recent entrepreneurial efforts have brought a lavender farm, an alpaca ranch, and several wineries.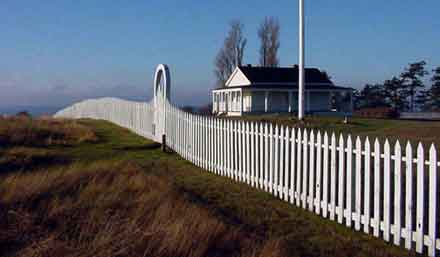 Friday Harbor, the commercial center, is deceptively ramshackle. Old wooden houses climb a steep hill above a waterfront alive with million-dollar yachts and sailboats and the continuous coming and going of huge Washington State ferries, announced by blasts on their deep horns. From the front terrace of the excellent Whale Museum, set high over the harbor, a magical view takes in distant islands and the silver-glinting sea. Off in those waters reside the whales the museum lovingly portrays. Taped voices of the orcas, mournful and musical, ring through the tall, raftered building. The skeletal remains of a 20-foot male orca hang from the ceiling, made poignant by the details of his final days. He was last seen alive, I read, on July 23, 1977; his carcass washed up on Vancouver Island on August 5. "Cause of death unknown." Luckily the island offers good possibilities for live sightings of three local pods (about 90 whales in all) at Lime Kiln Point State Park, billed as the nation's only whale-watching park.
One of the best things about this particular trip is the amount of time, a full day or more, allotted to each port, allowing one to explore without fear of missing the boat. When we were in Victoria, one couple took off for distant parts to dine at a famous restaurant and made it back safely before a late-night sailing. Another plus is having a naturalist aboard. On our trip John Scheerens, an Alaskan who gave lively talks in the ship's lounge on the history of places we were visiting and, most notably, the geography and geology that shaped the waters that carried us there.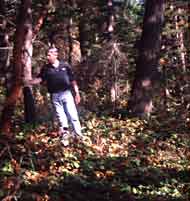 After the civilized pleasures of Friday Harbor, we sailed off to spend the next day at two islands in the San Juan chain that, except for day-trippers, are uninhabited. Sucia can be reached by commuter ferry. It has manageable hiking trails and wide sandy beaches strewn with silvered driftwood, tokens of the second-growth forest that forms its core. Prevalent is Sitka spruce, which, John Scheerens explained, is even today better than any other product for repairing parts of airplanes and musical instruments. The island's isolation, its proximity to the border, and the caves that pock it helped smuggling become a big industry in the 1800s. Not only drugs and liquor moved in and out of these isolated shores; humans did too. Chinese laborers were hidden here until they could be moved into Washington to work the railroads. Sometimes, it was rumored, when the authorities pursued them at sea their captors got rid of the evidence of by throwing them overboard.
We landed on Sucia Island in inflatable rafts carried aboard the Yorktown and made the final yard to shore by foot, in a "wet landing" that was the essence of soft, very soft, adventure. Later, as we sailed back to the Yorktown Clipper, the crew of a small fishing boat called us over, pointing to their dinghy floating behind. A furry head poked up; it belonged to a baby harbor seal that had found a cushy berth and didn't seem at all ready to give it up.
At the end of the cruise and even after visits to Victoria and Vancouver, passengers agreed that the tiny island of Matia, with its thickly rooted paths through a never logged true old-growth forest, was the best part of the trip. Some people followed our naturalist on what several returning walkers reported was a scary hike ("had to watch my feet more than anything else," said one). I opted out and carefully made my way along on my own, following a sketchy trail. I was ready to turn back at any time, but I just kept going, lured by the evocative scent of ancient rotting leaves, the sight of enormous mats of ferns, and the filtered sun that spotlighted textures of root and bark. Walls of rock rose suddenly in front of me, and huge fallen logs seemed to promise no way forward; then I would find a way. At one moment the quiet hum of insects was broken by the manic hammering of an outsized pileated woodpecker. It was clinging to a tree at least 40 feet above me, but I could see each individual wood chip flying.
The trip wound up in Vancouver, where the art museum was holding a definitive exhibit on Emily Carr, a wonderful Canadian painter of the 1920s and 1930s and later a successful writer. She spent much of her working life on islands not far from where we had sailed. "Air moves between each leaf. Sunlight plays and dances," she wrote. "Nothing is still now. Life is sweeping through the spaces. Everything is alive. The air is alive. The silence is full of sound."
Emily Carr had a lifetime to listen to these ancient forests. I had part of a day. But thanks to a journey on a graceful small ship I made a start.
Keywords