Taking Off With Honor Flight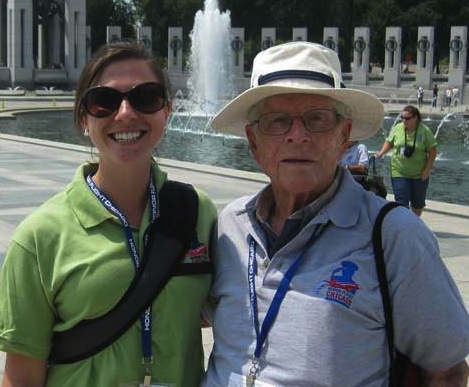 "When they flew over us at Guadalcanal during World War II," said Wes Hardin pointing to a sleek Japanese Kawanishi N1K2-Ja Shiden fighter, "they made a racket, sounding like an old-fashioned washing machine." The 92-year-old veteran and I were at the Smithsonian's Udvar-Hazy Center in Dulles, VA, seven hours after meeting at the airport as part of Honor Flight, an organization dedicated to bringing every living WWII veteran to Washington, D.C. Only now did the 60-year-old memories start coming out in waves.
Wes, now a native of my hometown of Chicago, told me about his work in the Pacific as an engineer and mechanic on early radar systems. One of his jobs was watching the radar screens. As soon as the flashing planes appeared (our planes remained solid), he would radio to the fighter planes and our aircraft would come out and shoot them down. "They only flew some 200 miles per hour, you know. Gave us plenty of time."
I was amazed at how fresh Wes was—we'd already had a long day visiting the Iwo Jima Memorial, and an emotional trip to the WWII memorial. Ninety-seven vets took park in this Honor Flight trip from Chicago, many of whom were so excited they couldn't sleep the night before. I snapped pictures of Wes in front of the Illinois column, and found the "Kilroy Was Here" graffiti hidden behind the Delaware and Pennsylvania columns.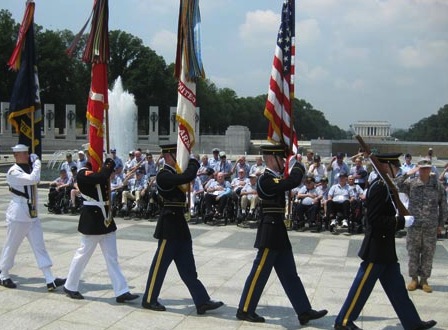 As our time dwindled and the vets posed for a group shot, we were met by members of the Honor Guard and Marine Drum and Bugle Corps. After a soloist started the national anthem, the veterans slowly began to join in, followed by the volunteers. By the time the bugler played Taps, most of us were in tears.
We ended up at the Smithsonian's offsite aircraft museum after a visit to Capitol Hill. At Udvar-Hazy, we visited a new wing, which provides the center with room for refurbishing the aircraft, and is now home to the only known surviving aircraft from the attack on Pearl Harbor.
All day long strangers approached us to thank Wes for his service. He continually told me he couldn't get used to all the accolades. "I guess it was just a different time," he said. "The government told you to go serve, and you did." Wes returned from the Pacific to a job in the insurance business, before deciding to purchase a Hallmark store which he owned until retirement 30 years ago.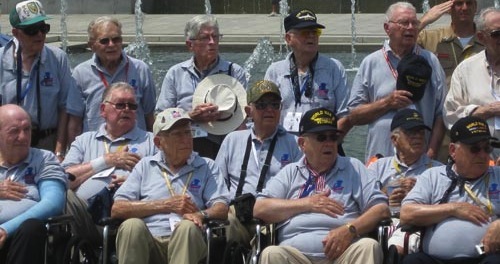 Humility and heroism were truly qualities of the men and women on the Honor Flight that day. As I said goodbye to Wes at the gate, I thought about meeting his plane just that morning. Cheers and applause from the volunteers echoed through the corridor as the vets made their way off the plane, tears in their eyes, amazed that so many people still cared after so many years.
While sitting on a bench at the WWII memorial and watching school children wander, Wes turned to me and said, "I wonder if they understand it. The young people—do they really get it?" Well Wes, I can guarantee you that after spending a day with Honor Flight, this young person definitely does.
For more information on volunteering or helping your veteran sign up, visit www.honorflight.org.